The popular Korean dish kimbap is made by wrapping crispy sheets of seaweed around rice and flavorful fillings, and it's perfect for picnics, packed lunches and sharing. Kimbap can have a variety of fillings like vegetables, egg, fish and meats. Experiment to discover your favorite combination.
Note: If you use brown rice, cook it until it's very soft so the grains can stick together.
INGREDIENTS:
½ block extra-firm tofu
2 teaspoons brown sugar
1 tablespoon plus 1 teaspoon soy sauce
1 teaspoon Korean chili paste (may substitute with chili oil, sriracha chili sauce or any other Asian chili sauce)
1 teaspoon sesame oil
½ cup thin bell pepper strips
½ cup shredded carrots
⅛ teaspoon salt
1 teaspoon vegetable oil
2 sheets toasted seaweed (sushi nori)
1½ cup extra soft cooked brown rice or medium grain white rice
½ cup chopped romaine lettuce
Nonstick cooking oil spray
DIRECTIONS:
Wrap tofu in several layers of paper towels and place on a plate. Cover tofu with a heavy object such as a cast-iron skillet and let sit for 30 minutes to drain the liquid. Unwrap tofu and discard paper towels.
In a shallow bowl, combine brown sugar, soy sauce and chili paste. Cut the tofu into ½-inch thick strips, add tofu to bowl with sauce and marinade for at least 30 minutes.
Heat sesame oil in a skillet over medium heat. Add bell peppers and carrots and season with salt. Cook, stirring occasionally, for 3 minutes. Remove from heat.
Heat vegetable oil in a skillet over medium heat, add marinated tofu and pan fry on all sides until crispy.
To assemble a roll, place a sheet of seaweed on a sushi mat (if available) and spread on enough rice to evenly cover it. Arrange two strips of tofu and half of the bell peppers, carrots and romaine lettuce over the rice. Tightly roll into a cylinder. Spray oil on a knife and cut the roll into 8 bite-sized slices.
Repeat the process with the second sheet of seaweed and the remaining rice, tofu, bell peppers, carrots and romaine lettuce to make a second roll.
Serve with soy sauce, if desired.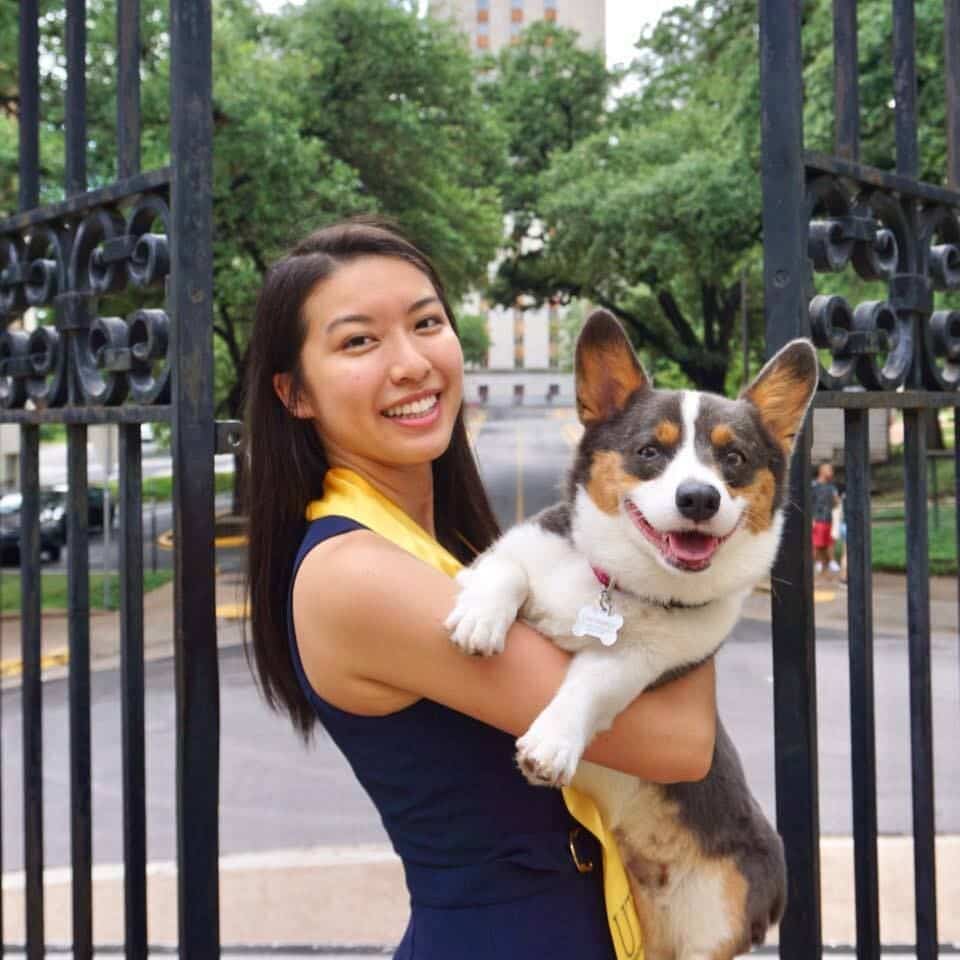 Jamie Lin is a pediatric dietitian who loves cooking, dancing, traveling, playing piano, and of course, working with kids! She enjoys learning about different cuisines and creating recipes with ingredients from all around the world. In her free time, she is most likely dancing, eating, or filming and testing out new recipes for @thegastronomygal on Instagram.