Eastdale Collegiate Institute is a small, inclusive high school with a focus on individual support and vocational skills for students in grades 9-12. Many of the students have special needs or learning exceptions, and Eastdale's garden program is a valuable tool for life lessons and job training.
"About half of our students are not earning credits, they're earning life skills," explains Principal Brian Hill. "These kids have special needs and many are here until age 21. The other half are kids in our credit program who will earn a diploma. Those kids have not had success in a larger high school, so they come to our small setting to find success, and we get them back on track."
Since the school is located in downtown Toronto, they have limited outdoor space for an in-ground garden, so instead they built a rooftop garden spanning 11,000 square feet.
Students do most of the planting, and the garden is maintained with help from partner FoodShare, which also runs workshops and coordinates guest chef visits to the school.
Eastdale received grants from a variety of funding sources to build the garden in 2011. The roof had previously been an athletic space, complete with a tennis court — an unusual setup that also is ideal for building a garden. The rooftop already was level and flat with a wall surrounding it for safety, had proper drainage, and was designed to handle plenty of weight.
All of these features made it easy to transform into a rooftop garden with a container bed system, a hose irrigation system, and rubber matting in the walking areas.
Throughout the school year, students work in the garden alongside FoodShare experts, and the garden provides jobs for a handful of students who are hired each summer to facilitate weeding and watering.
"The experiential hands-on programming is a fantastic fit for these kids," Brian says. "They not only learn about food and proper nutrition, they actually cultivate it, prepare it, serve it and sell it."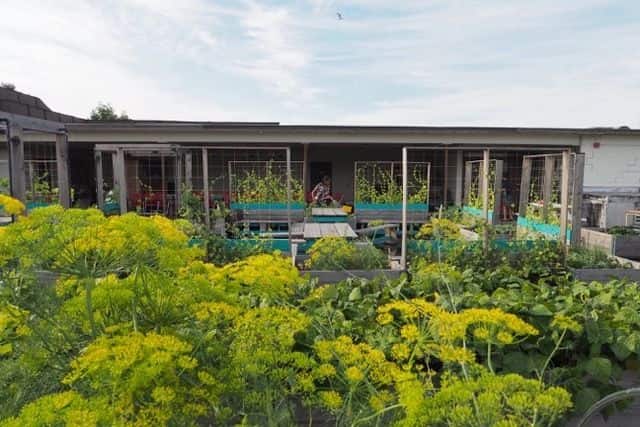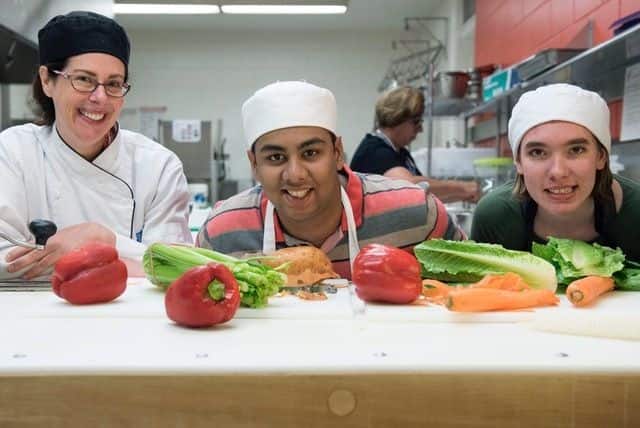 The garden ties in with the school's hospitality and food service training program. A seed-to-market course includes growing, harvesting and selling the produce. Funds from those sales are invested back into the garden program.
"Students learn all the garden operations, and the focus is on healthy eating and education around that," explains Assistant Curriculum Leader David Servos. "The produce is sold through a number of farmers markets in the city, so those students get experience with handling cash and retail experience at the farmers markets."
Students in the hospitality program also prepare and serve 50-60 meals per day on site, which are served to other students. They're learning to safely handle food, use knives and maintain proper hygiene in an industrial kitchen, and they run a salad bar funded with a Whole Kids Foundation grant. Students in the advertising program design t-shirts and ads to promote the salad bar.
In addition to the rooftop garden, Eastdale has made other changes that helped them proudly earn an EcoSchools gold award, as a result of decreasing their carbon footprint by 83%. The school now uses real plates and cutlery in the cafeteria, instead of disposables. Food waste and paper cups are composted. They also have begun installing a second smaller garden in front of the school.
Many of these garden opportunities help kids develop marketable job skills and provide resumé-building experiences that will help them get jobs after graduation.
"We have one kid who graduated and is now a paid member of FoodShare," Brian says. "These are transferable skills that will allow many students to get jobs in the food industry or a related sector. Whether they use this training to be gainfully employed or are making their own meals at home, we're giving them lifelong skills. And we are overall becoming a green-oriented school with a sustainable model. We're really happy about that."
Top Tips for Rooftop Gardens
A rooftop garden requires a mostly flat roof surface to accommodate planters, which may contain plants of any size, shrubs, grasses, or even trees — as well as walking and seating areas for accessing and enjoying the garden.
Before designing a rooftop garden, it's crucial to find out how many pounds per square foot the roof can hold. An architect, developer, or engineer can provide this information.
To keep the weight down, choose planters made from materials that are relatively lightweight, such as wood, fiberglass or metal. Also factor in the weight of the soil or other growing medium when deciding what size and depth containers to use.
Consider weight when selecting other elements for the garden space, including pathways, decorations, seating and equipment. Wood, fiberglass, composites, or metal are typically lighter than stone or concrete.
Make sure you have a convenient source of water for irrigation or access to a nearby water source to install a drip irrigation tubing system. An electrical outlet may be needed as well.
Stronger winds and more intense sunlight may be extra considerations when designing a rooftop garden and choosing what to plant.
Check local laws and building codes before finalizing your rooftop garden plans. For instance, some cities have fire codes that limit the use of certain materials on rooftops.
If the roof is slanted or cannot handle enough weight, instead consider an extensive green roof, which can be created with a water barrier and shallow, lightweight trays of plants.