An aquarium, museum and zoo. This trifecta of unique learning opportunities come together at the Greensboro Science Center with the potential to make a lasting impact on the natural world around it.
Greensboro Science Center (GSC) in Greensboro, North Carolina strives to inspire through engaging experiences that increase appreciation for nature. The center's commitment to science education can be seen in their dynamic, experiential and family-focused attractions designed to spark curiosity and encourage personal discovery about the natural world.
Visitors can watch digital, laser and 3D shows; attend classes, camps, and demonstrations; plus have close-up encounters with a 36-foot Tyrannosaurus Rex model and living animals big and small like a red panda, Sumatran tiger, giant Pacific octopus, Nile Crocodile, alpaca — and lot of bees.
"How do you put a bandage on a sting-ray? You can't. But you can use honey."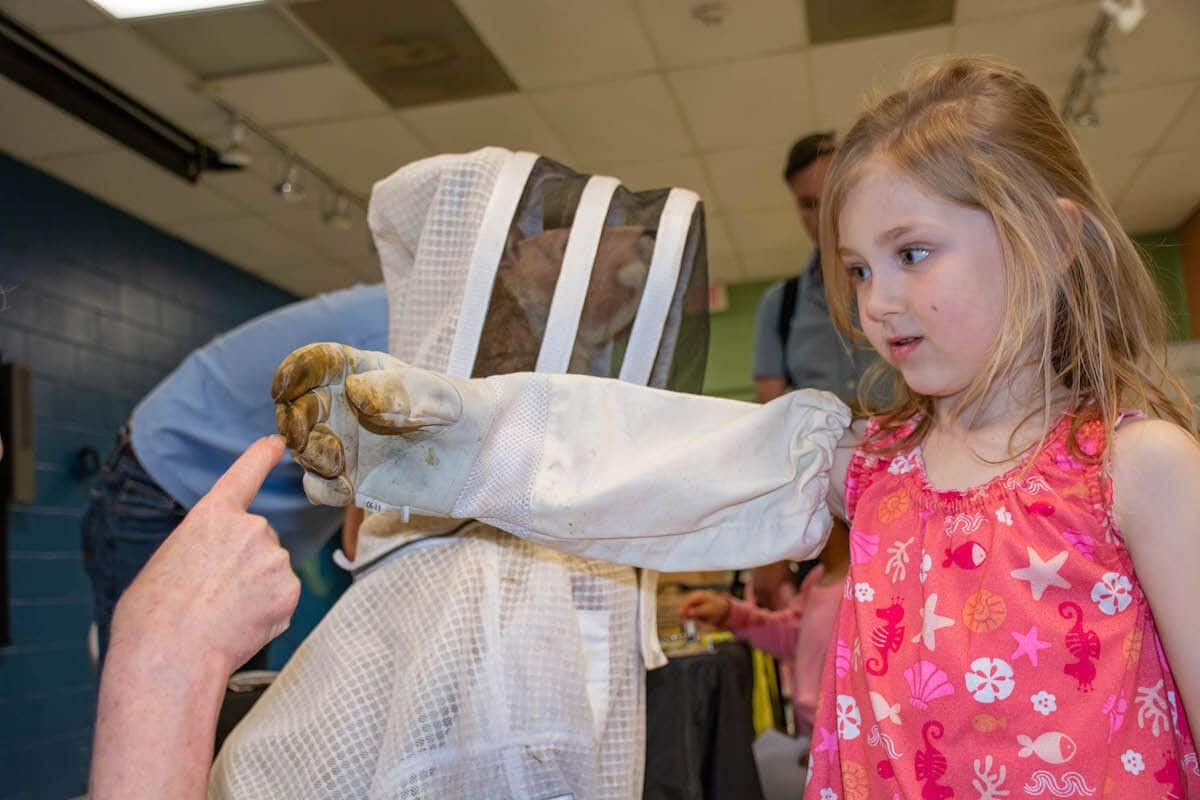 It's been more than a decade since GSC welcomed its first beehive, and what started as a single observation hive is now an integrated part of the GSC experience. Today, GSC does not simply showcase bees, but rather, focuses on how bees are part of our world and why it's critical to protect them and other pollinators.
The center usually houses between two to three honey bee hives (currently there are two), and the hives are considered part of the animal collection within its zoo. They are located near the farm yard, which helps to highlight bees' critical role in agriculture. "When kids visit, we want to show them that an egg comes from a chicken and that a teaspoon of honey comes from worker bees," explains Martha Regester, Greensboro Science Center's Vice President of Education.
After securing a Whole Kids Foundation Bee Grant, GSC was able to add an extractor, bee suits, frames and hives to their beekeeping supplies. Plus, they increased their education materials to better serve their guests.
Over the years, the bees have proven to be a conversation starter, reports Regester. As such, the center can easily integrate bee curriculum into a variety of programming. A few examples include:
Children's pollinator camps
Honey extractor demonstrations
An ultraviolet light exhibition, which showed how bees have the ability to see the ultraviolet spectrum helping them to find nectar
A Tiny Tots activity where kids built a beehive from bottle caps
An event focusing on local products.
Because of the center's makeup, the honey harvested from its hives is used onsite to support its animal program in two ways: animal enrichment and vet services. Honey not only gets added to some animals' diets but to sticky toys too, allowing animals to work for their food.
The on-site vet services tap into honey's medicinal properties. "How do you put a bandage on a stingray? You can't," explains Regester. So, when a stingray had to be treated for bite wounds, the vet used a honey application to create a protective barrier over the wound. Honey has also been used when treating a seahorse's pouch and a kitten with a broken leg. It is added to medicines as well.
GSC is dedicated to conservation, and its mission is to preserve species and habitats through on-site programs, community awareness, field studies and fundraising. As part of these efforts, there are multiple "pollinator pockets" of pollinator-friendly, native plants on the GSC grounds including butterfly gardens and small agriculture beds. In addition, the center is building a butterfly house.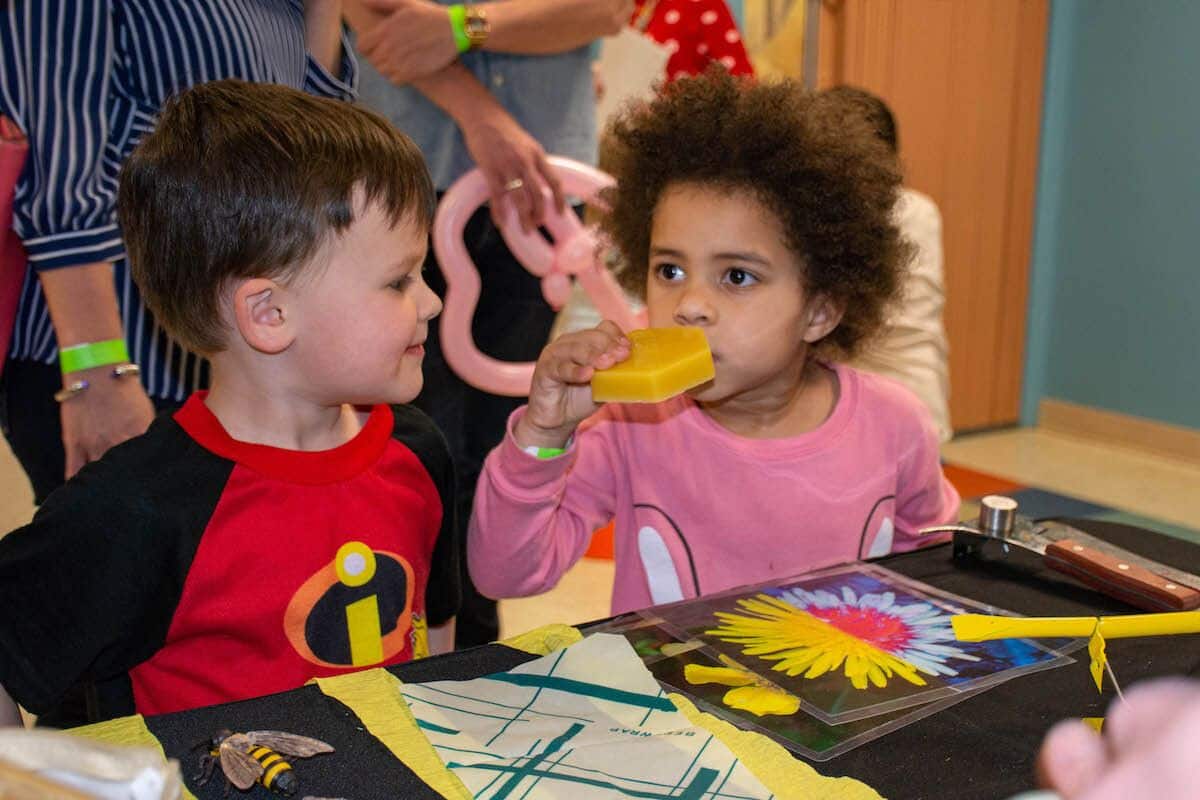 In telling this larger pollinator story, GSC is able to use the on-site honey bee hives to help educate the public about the importance of bees, the need to protect them and ways individuals can help.
"We try to show people what is realistic. Anyone with a yard can plant something," explains Regester, adding "But not everyone has to become a beekeeper or have a pollination garden. We're hoping people recognize the importance of bees and other native pollinators and their connection to our food source."
GSC's conservation efforts extend outside its walls, and it has community partners to help. The center works with Greensboro's Park & Recreation department to install pollinator gardens and extend pollinator possibilities in parks across the city. Soon the center will use its new greenhouse to propagate large quantities of pollinator-friendly milkweed, which will be planted throughout city parks. (Find plants that are native in your area with the Native Plant Finder.)
They have also partnered with the Kathleen Clay Edwards Library, a branch of the Greensboro Public Library with an environmental education focus, to transform the library's adjacent open space into a pollinator field.
"What if Greensboro was recognized for its pollination gardens?" asks Regester. Thanks to GSC's pollinator programming and conservation efforts, reinventing Greensboro as a pollinator-friendly city could be a reality soon.
Find resources to support your Bee Program with the Pollinator Partnerships Ecoregional Planting Guide.
Due to COVID-19 and related local restrictions on public gatherings, in-person events outlined here may be temporarily paused or moved online. The center remains open to the public for socially distanced visits.