Since it was established more than 40 years ago, Paige Academy has been providing affordable care and education for infants through 6th grade. From the start, gardening and food justice have been integral to the program, which is based on the seven principles of Kwanzaa: unity, self-determination, collective work and responsibility, cooperative economics, purpose, creativity, and faith.
"This school was one of the urban gardening pioneers in the Boston area," says Development Director and Gardener Keith Clougherty. "The neighborhood turned many empty lots into beautiful gardens without any resources, grants, or funding from anybody. They planted fruit trees and grape arbors that have been a part of the school from the beginning."
These gardens became more than a valuable food source — they were also a form of activism and a way for residents to reclaim their space during a time when the area faced economic despair. As properties were abandoned and burned down, Paige Academy and other neighbors painstakingly converted vacant land into lush gardens that still thrive today.
"On campus we have two gardens, plus a fruit tree orchard and three grape arbors," Clougherty says. "We also have five plots in a nearby community garden and one satellite garden with a dozen raised beds about two blocks away on a property that was donated to the school."

Preschool and elementary students get hands-on time in the garden and take cooking classes as part of the curriculum. They grow a robust variety of vegetables, fruits, herbs, flowers, and perennials. With help from a recent Whole Kids Foundation grant, the school purchased two rain water collection barrels for irrigation and some canning equipment for making jelly from their grape harvest.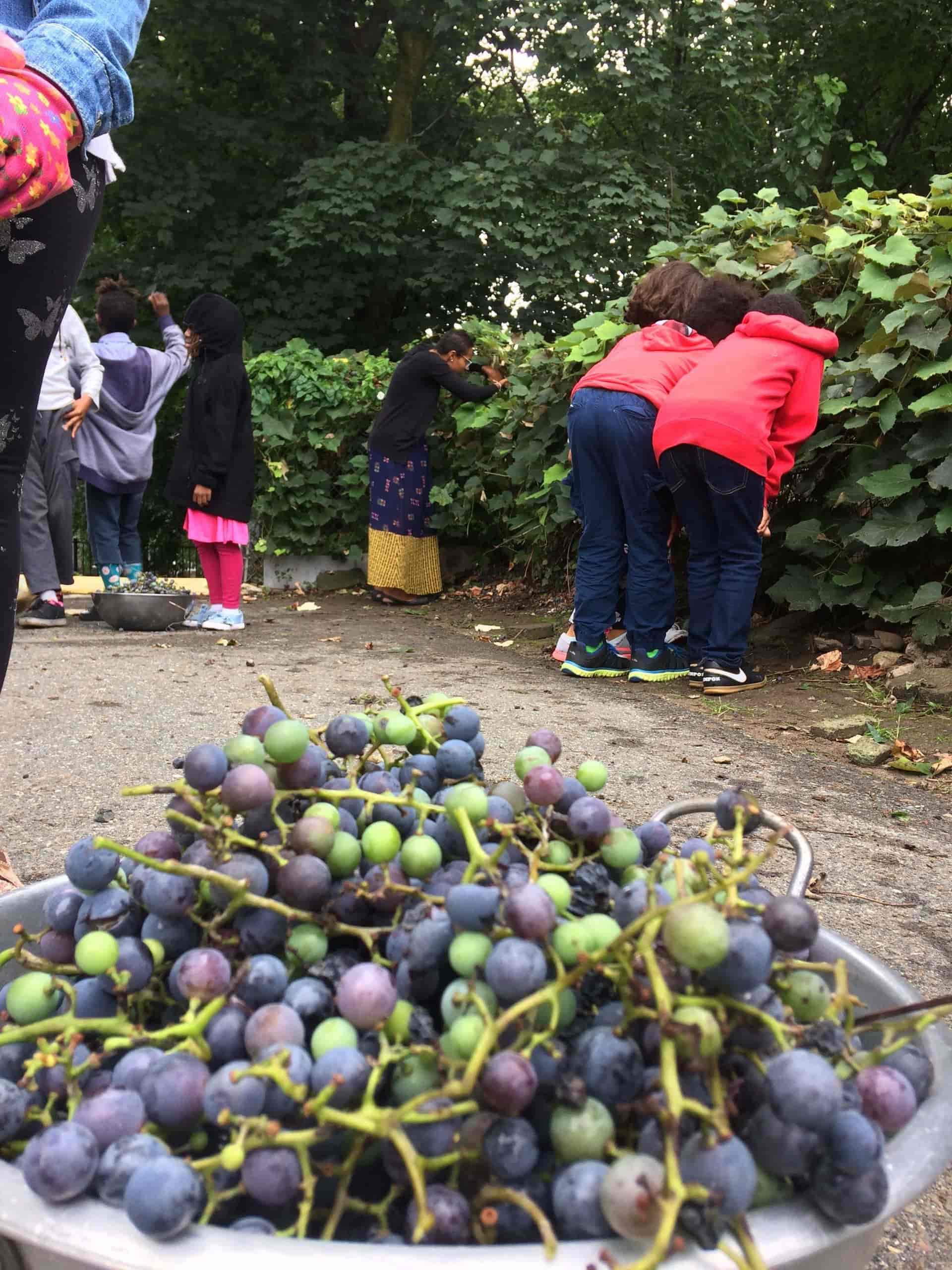 "The space where our grapes grow today was once a burned-out vacant lot," Clougherty says. Now it serves as an outdoor learning space where kids are taught how to harvest the grapes. Then they take them inside to wash, squeeze, and strain them through cheesecloth. Next, students use scales to weigh out the right quantities of fruit, sugar, and other ingredients for the jelly. The school chef steps in to demonstrate water bath canning for the students. When it's all done, the kids proudly sell their product to raise funds for the school.

"It's a lesson in science, economics, math, entrepreneurship, and even social studies," Clougherty says. "The students get the idea they can take what they're learning and turn that into a livelihood."
With every empowering jar of jelly, the students have a chance to connect with the natural world, usher a food product from farm to table, become budding entrepreneurs — and carry on a legacy the community started by planting these gardens decades ago.