Every summer, dozens of kids stream through Summit Community Gardens during a seven-week camp season. Each week explores a different theme. Busy little bees, ages 5-12, are seen buzzing around at work in the garden, learning about recycling and compost, or harvesting veggies for a cooking competition.
This nonprofit community garden program was created in 2015 through a partnership with Summit County, the Summit Land Conservancy, and Basin Recreation. The 1.5-acre space includes around 140 garden plots, plus additional demonstration beds, a kids' garden, a beehive, and a compost center.
Fundraising and volunteer coordination are among the program's greatest strengths. The summer camps have proven a great way to engage more kids while also raising money. Parents pay an affordable weekly tuition for half- or full-day sessions. The camp counselors are recruited through AmeriCorps for a very reasonable rate.
"This is our third year, and it's been fantastic every single year," says Summit Community Gardens Board Member Kelly Vendetti. "The young people from AmeriCorps bring so much enthusiasm. They have a lot of great ideas. We also partner with other nonprofits in Park City to support some of the camp themes. The one that is the most successful by far is called Chopped, Garden Edition, where the kids spend the morning in the garden learning about growing and harvesting. Then they take that food inside and do a cooking competition. EATS, the partner nonprofit for that camp, is working to upgrade food in the school cafeterias, so it's very well aligned."
"In addition to selling vegetables at the harvest market, someone put together flower bouquets in little Mason jars and they went like hotcakes."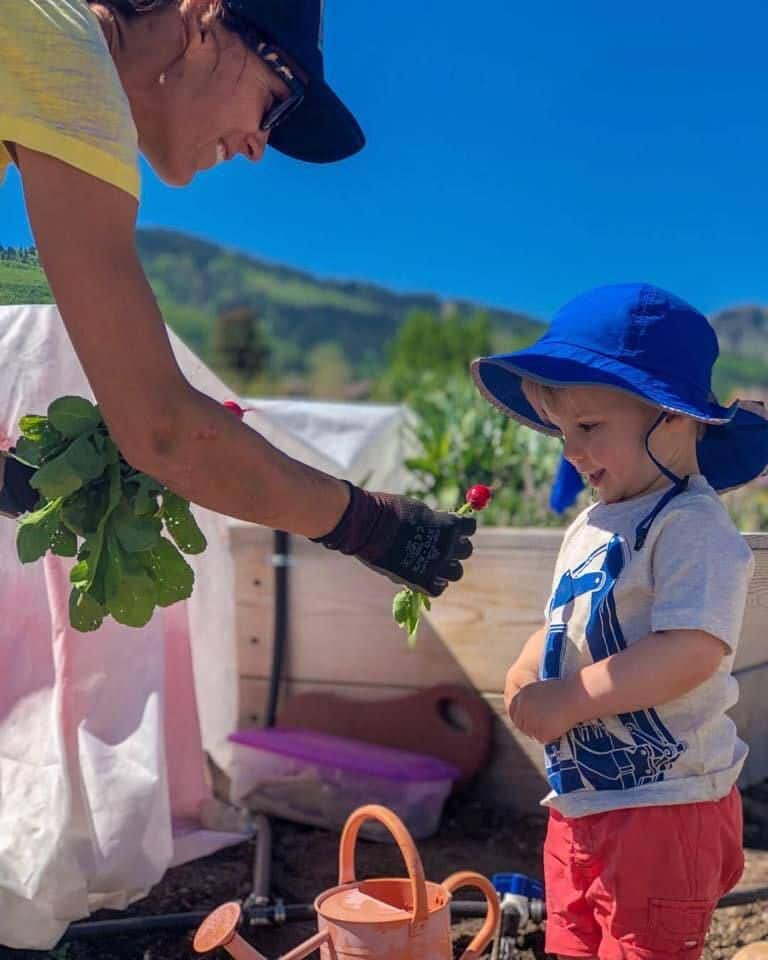 Other favorite camp themes include:
Budding Scientists: Kids conduct cool experiments in the garden and learn the science behind seeds, cuttings, food storage, and more.
Week in the Life of a Farmer: Young gardeners learn about seed starting, beneficial plants and animals, pollinators, and take a field trip to a nearby farm.
Cycles: In partnership with Recycle Utah, kids learn about recycling, compost, and how things can cycle from one use to another.
Harvest Camp: With support from community partner EATS, kids gather fruits and vegetables from the garden for fun food projects, like pickling and making salsa.
Beyond the camps, other successful fundraisers include an annual Seeds of Change spring party, seasonal DIG In! (Dinner in the Garden) events, the sale of high-altitude gardening kits to help local residents make the most of Utah's very short growing season, and a weekly farm stand now in its fourth year. Farm stand sales increased exponentially in 2019, thanks to a small group of volunteers who brought new ideas and energy.
"In addition to selling vegetables at the harvest market, someone put together flower bouquets in little Mason jars and they went like hotcakes," Vendetti says.
Frequent activities in the garden keep their large volunteer base engaged, especially from April through August. Everyone with a garden plot is required to donate eight hours of time, and Summit Community Gardens also taps into the local master gardener training program to recruit volunteers who need to earn hours. They also have found ways to target specific volunteer groups with a shared interest, such as the recent addition of a hops garden for brewing enthusiasts.
"What we find works best is to designate certain dates and times for volunteers to drop in a few times a week," Vendetti says. When the volunteers arrive, staff provide assignment lists and instructions for them to follow.
And when all these volunteers are done harvesting their bounty, Summit Community Gardens donates anything extra — more 1,000 pounds of produce every season — to local food banks.