"I like the grain and the beans. Try it! Beans are good." — Graciela, 5th grade, after tasting the Mango, Black Bean, & Quinoa Salad
Nachos with Lentils and Avocado Cream. Black Bean Falafel Tacos. Cool & Spicy Cucumber Salad. Quinoa Mango Salad. Indian Flatbread. These aren't menu items from a celebrated restaurant. They're plant-focused menu items created for school-age children. And thanks to CIA (Culinary Institute of America) Healthy Kids Collaborative and Whole Kids Foundation, the recipes are now available at thelunchbox.org, an online toolkit that provides free step-by-step guides, tools, recipes and other resources to help schools improve their meals and begin cooking from scratch.
The CIA Healthy Kids Collaborative is a national initiative between school nutrition professionals, food service directors, chefs, suppliers and nonprofits, which aims to advance culinary-driven, healthy, flavorful foods for K-12 kids in the U.S. That means better choices for kids in school cafeterias.
"Whole Kids Foundation joined CIA Healthy Kids Collaborative because our goals align—connecting kids to real food," said Kim Herrington, director of programs of Whole Kids Foundation and CIA Healthy Kids Collaborative member. "By championing plant-forward meals, the Collaborative is helping kids eat closer to nature, expanding their choices and cultivating lifelong healthy eating habits."
Currently, the National School Lunch Program feeds more than 30 million students per day. So, these new recipes have the potential to impact millions of students across the country.
The group believes that with its scope of diverse backgrounds and experiences, it will be well equipped to improve the quality of school food. With nutritional regulations for school food set by the USDA and monetary limitations (typically participating schools have only $1.25 to spend on food per student meal!), schools are challenged to serve food that tastes good and is healthy.
"It has flavor and texture to it. I like the pepper." — Carolina, 5th grade, after tasting the Blazin' Buffalo Wrap
Plants to the Rescue
Enter: Plant-forward eating. The CIA Healthy Kids Collaborative uses the phrase "plant-forward" to describe dishes where vegetables, fruits, whole grains, beans and other legumes are the primary ingredients. Meat may be included in these recipes, but it's a minor player, not the star of the dish! Plant-forward dishes have been growing in popularity at restaurants and homes across the country. It's only natural that school lunch menus follow the trend.
"There is a protein requirement for school food, and to date, it has typically been fulfilled through animal protein," explains Mara Fleishman, chief executive officer of Chef Ann Foundation and CIA Healthy Kids Collaborative member. "With the health and environmental benefits of plant-forward eating, the question that we set out to answer was, how can we encourage and support more plant-forward recipes that are based in culinary technique in schools throughout the country?"
"People get bored of the same foods. It's important to have different flavors, different foods." — Iffat, 5th grade
New Recipes, New Foods, New Favorites
So, in December of 2018, CIA Healthy Kids Collaborative, with funding from Whole Kids Foundation, set a goal to create more than 100 new delicious plant-based recipes that can be cooked from scratch (i.e. real food made from real ingredients) in school cafeterias across the U.S.
"Make no mistake: this is a tall order," Mara explains. "The plant-forward recipes must not only incorporate full flavor, nutritional needs and be economical, but they also must be globally influenced to reflect and appeal to the diverse school communities across the country, which vary in cultural heritage."
The group also took into consideration national data on popular items for kids in fast casual dining, which supported the decision to explore twists on traditional lunch foods as well as introduce foods not often found on school lunch menus, such as tempeh.
After months of brainstorming, cooking, testing, phone calls and meetings, 12 chefs from nonprofits, food companies and school districts from across the country came together in Napa, California in May.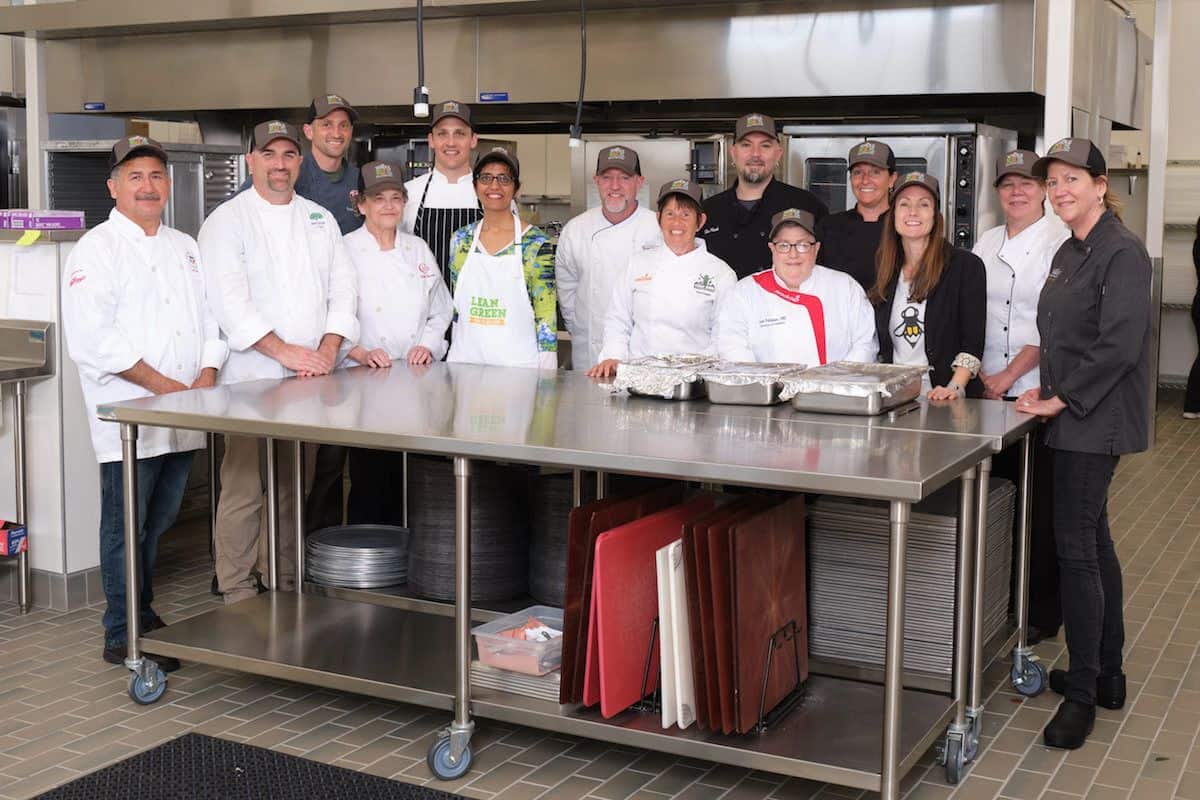 Napa is not only home to the Culinary Institute of America's California campuses but also to the Napa Valley Unified School District (NVUDS), where the food and nutrition service program is transitioning from heat-and-serve processed meals to healthier, scratch-cooked meals. The district has more than 17,000 students in 28 schools, and about half of its students qualify for free or reduced lunch.
So, Napa was the perfect place for the CIA Healthy Kids Collaborative to finetune its first batch of 30 recipes, develop the nutritional analysis, make them scalable, and test them with hundreds of kids in the NVUDS.
"The students were excited to see plant-based dishes that reflected many of their eating habits at home. Seeing simple dishes like Cilantro Lime Rice and Kashmiri Rice with Tofu got kids excited about different flavor options they were familiar with and some they had never tried before," reported Dan Marek, Whole Kids Foundation's school programs manager, chef and CIA Healthy Kids Collaborative member. "I think these recipes can inspire food service directors around the country to look at what they are serving and make a change to offer more sustainable, nutrient-based, plant-forward options."
"When the kids see their friends try new foods at school, they'll try things they will not try at home." — Ms. O'Sullivan, 1st grade teacher
Get the Recipes
The Collaborative is publishing all 100 recipes over the span of four years, and the first batch of 30 recipes is now available at thelunchbox.org. Luckily, we're giving you a sneak peek…er, a small taste of 3 recipes you can try at home, too. Check out:
Be sure to visit thelunchbox.org to discover more recipes.
Interested in exploring more healthy changes—both big and small—at your local school? Check out Whole Kids Foundation's grant programs, Healthy Teacher Program and resources for parents and teachers.